2-Day Accountants In Business
Published
Croner-i's 2-day event brings you comprehensive analysis of the regulatory and legislative finance developments impacting businesses, plus 14 CPD points. 
Use code exclusive code TDN100 to save £100 per ticket. 
Buy Discounted AIB Tickets
The Virtual Accountants in Business (AIB) provides a comprehensive analysis of the key regulatory and legislative developments that impact businesses. Designed specifically for finance professionals this 2-day course is run virtually throughout the year. Choose from 4 different dates.
Who is it for?
This essential annual update is for corporate accountants and finance professionals working in business
Designed to keep you up-to-date with the latest changes in tax, financial reporting, HR and company law together with the wider developments that can impact your business
Two day format, 4 course's to choose from, Oct, Nov and two days to choose from in Dec, providing 14 hours of CPD points
Brings together a variety of experts who offer relevant real life examples together with practical advice that can be directly applied in your work
Now includes a global economic outlook and the implications of EU Brexit to help guide you through an unfolding and unprecedented period of change
What's included in my ticket?
Access to 2 days live virtual event
Latest industry updates as well as learn in-depth and topical content that can be logged towards hours spent on your CPD
Supporting material to aid learning including extensive course notes, downloadable slides
Access to watch these recorded session back on-demand in your own time
Partake in subject-specific Q&As and polls and learn from other like-minded delegates in your field and potentially expand your network
14 CPD hours in just two days
Complete your CPD with access to1 FREE eCPD module on our eLearning portal
Build your professional network and develop your decision making skills
Free subscription to

 

Accountancy Daily
Hardman's tax rates and table
Free model documents templates and course notes taken from the platform
Reduce the risk of using outdated compliance information
Understand the latest dynamics of the global economy and Brexit implications
Discover actionable ideas and examples to help make a difference to your organisation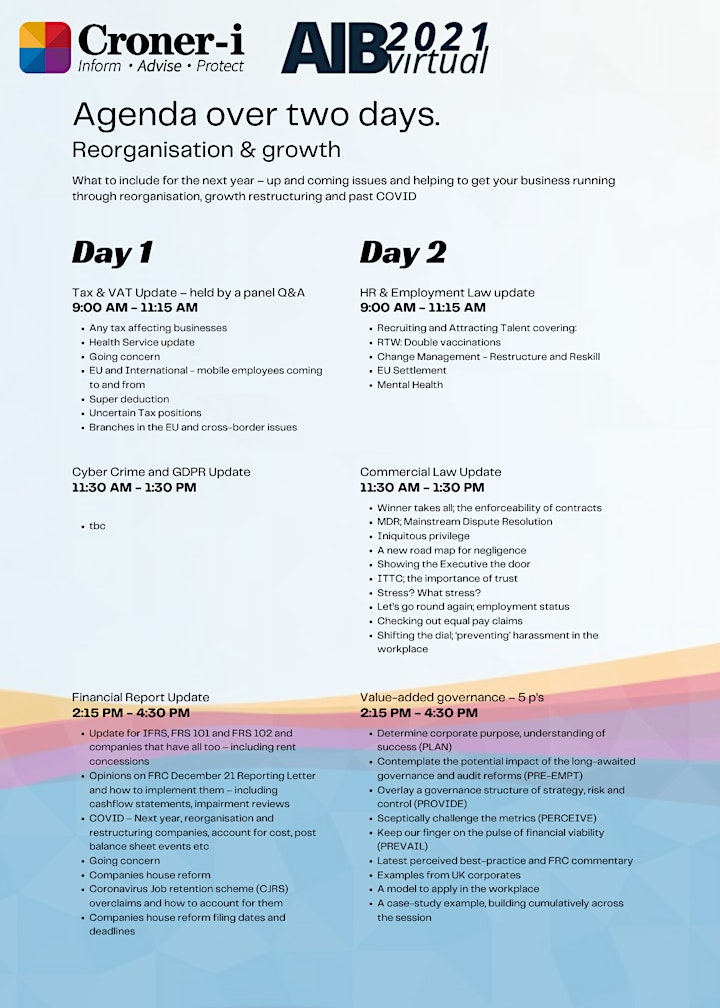 ⭐⭐⭐⭐⭐
See what AIB attendees say about us...
"A great selection of finance related topics. Presentations that kept sometimes dry topics interesting."
- Gary Woodgate, Central Finance Controller
"I found Amanda an excellent speaker and presenter. She was very thorough and made the whole presentation interesting which we all really enjoyed."
- Shweta Buttoo, Financial Controller
"Overall, a very good roundup with some relevant and interesting topics."
- Frank Blackmore, Finance Manager
⭐⭐⭐⭐⭐